If you have a small bathroom, then you certainly know just how difficult it is to make the best of it – difficult, but not impossible. The good news is that you can boost the value, the comfort and the livability of your home with several minor bathroom improvements that require a minimal investment, and here you will find 50+ small bathroom ideas that you can try!
13. Cottage Paper Storage
If you are looking for an affordable yet fancy and stylish way to store your cottage paper, then look no further! Here is an outstanding idea that will help you redefine your cottage paper storage in a timely and affordable manner.
Project Source – homedit
14. Above Door Toilet Paper Storage
Most of the people choose to store their toilet paper right on top of the toilet bowl, and that is fine! However, if you aim for a more sophisticated way to store your bathroom paper, then here is how you can make your own above-door storage space!
Project Source – homedit
15. Small Bathroom Decoration Idea
Just because your bathroom is small, this does not mean that it cannot be beautiful and worth exploring! Here is a picture that is truly worth a thousand words.
Project Source – cuded
16. PVC Pipe Toothbrush Holders
Storing your toothbrush is actually more complicated than you might have thought, as you need to make sure that you store them in a proper, hygienic manner. The last thing you need is to have all the germs stuck on your toothbrush! Here is a very crafty and innovative PVC pipe toothbrush holder that you can use.
Project Source – craftingintherain
17. Storage Over The Toilet!
One of the most important benefits of making the best of the available storage space right on top of the toilet bowl is that the area is extremely accessible, and you can store everything there from your razors and your toilet paper to your ear buds. Here is how!
Project Source – thirtypics
18. Cheap DIY Bathroom Cabinet Drawers
Why spend several hundred dollars on a high-end Ikea bathroom cabinet drawer, when you can easily make your own within a few hours? Here is a great tutorial that will show you just how easy it is to do so!
Project Source – pregnantpower
19. Bathroom Storage Ideas
When you have a small bathroom, you are somehow forced by the circumstances to adapt and to find new ways of storing your goods. Here is a great idea that you can use, regardless of whether you have a modern bathroom or a rather conservative and traditional one.
Project Source – bhg
20. Bathroom Storage Ideas, Part Two!
If the tutorial above appealed to you, then you can rest assured there is more to it! Here you will find several other ideas that will help you take the storage and functionality of your bathroom to the next level.
Project Source – bhg
21. Bathroom Shelf Makeover
Your bathroom shelves tend to be overused, which means that they will wear and tear faster than other pieces of furniture in your bathroom. This is why they require more attention – and here is how you can give your current shelves a makeover, without having to replace them!
Project Source – iheartnaptime
22. Wall Mount Sink Cabinet
This is a very futuristic type of decoration that you can use in order to maximize the available storage space in a small bathroom. You can easily use this handy trick for your own bathroom, and you will be amazed to see just how much extra space you will get!
Project Source – bobvila
23. Bathroom Reveal!
Small bathrooms can be very cute and practical, and this tutorial certainly testifies to that. You can easily turn your modestly sized bathroom into a complete oasis, with only a bit of imagination and all the right tools.
Project Source – roncesrenodiary
24. Five Useful Tips For Your Bathroom Remodeling!
If you have decided that now is the right time to invest in your bathroom and to redesign it, then you will certainly find these five tips to be very useful. Just have a look at them and see for yourself.
Project Source – chatfieldcourt
25. Pretty Bathroom Storage
Who said that your bathroom storage must look dull and boring? On the contrary, you can make it look rather pretty, and this tutorial will guide you through every step of the process.
Project Source – myhomeideas
26. Traditional Tower Bars And Hooks!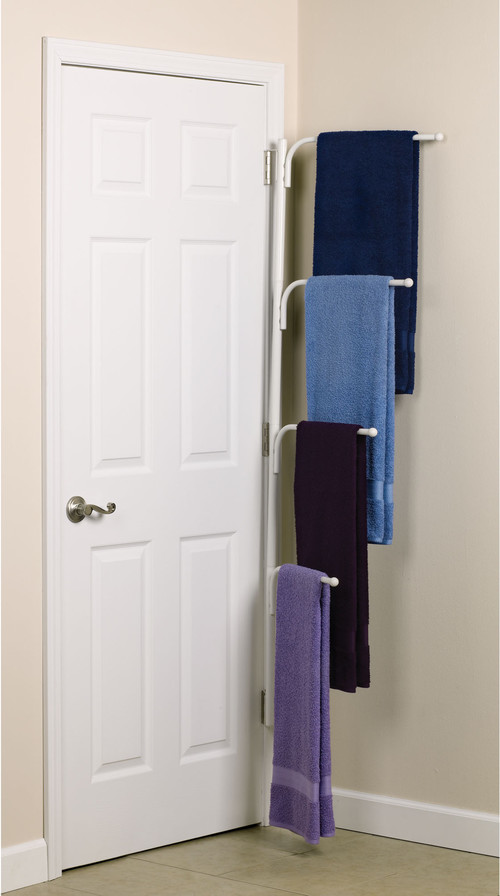 As mentioned above, there are two things that you must really pay attention to when storing them: you bathroom towels along with your toothbrushes. Here is how you can make your own little traditional tower bars and hooks!
Project Source – houzz
27. 25 Small Bathroom Remodeling Ideas
Lastly, here you will find no less than 25 small bathroom remodeling ideas that you can use in your best interest, if you want to boost the overall market price of your home!
Project Source – lushome
To sum it all up, these small bathroom ideas can really come in handy if you want to make the best of what you got. Expanding an existing bathroom or investing in custom-made furniture can come with a hefty price, but fortunately there are many alternatives to that! For more easy ideas ideas, visit the Organization archives!